We are never getting back together è un brano del 2012 di Taylor Swift ed è contenuto nel suo album Red.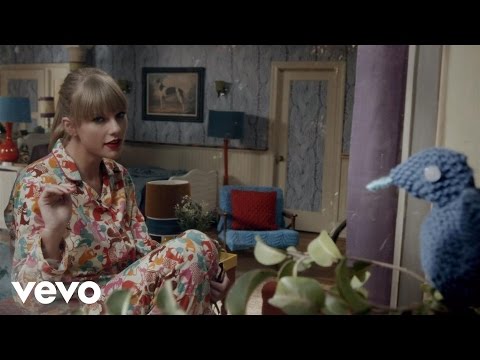 Il testo e la traduzione di We are never getting back together in download digitale su iTunes
I remember when we broke up the first time – Mi ricordo quando ci siamo lasciati la prima volta
Saying, "This is it, I've had enough," 'cause like – Dicendo: "Questo è quanto, ne ho avuto abbastanza," perché tipo
We hadn't seen each other in a month – Noi ci eravamo visti l'un l'altra in un mese
When you said you needed space. (What?) – Quando hai detto che avevi bisogno di spazio. (Cosa?)
Then you come around again and say – Poi tu arrivi di nuovo da queste parti e dici:
"Baby, I miss you and I swear I'm gonna change, trust me." – "Baby, mi manchi e ti giuro che cambierò, credimi."
Remember how that lasted for a day? – Ricordi che è durata solo per un giorno?
I say, "I hate you," we break up, you call me, "I love you." – Io dico: "Ti odio", ci lasciamo, mi chiami, "Ti amo." Continua a leggere→
Red è quarto album in studio di Taylor Swift, pubblicato il 22 ottobre 2012 per l'etichetta discografica Big Machine Records. Contiene 16 canzoni realizzate in collaborazione con artisti, produttori e autori con i quali la cantante statunitense ha sempre desiderato di lavorare come Gary Lightbody, leader degli Snow Patrol, nel brano The Last Time, Ed Sheeran in Everything Has Changed.
Le tracce di Red
Standard Edition
State of Grace – 4:56 (Taylor Swift)
Red – 3:43 (Taylor Swift)
Treacherous – 4:02 (Taylor Swift, Dan Wilson)
I Knew You Were Trouble – 3:39 (Taylor Swift, Max Martin, Shellback)
All Too Well – 5:29 (Taylor Swift, Liz Rose)
22 (Taylor Swift, Max Martin, Shellback)
I Almost Do – 4:04 (Taylor Swift)
We Are Never Ever Getting Back Together – 3:11 (Taylor Swift, Max Martin, Shellback)
Stay Stay Stay – 3:25 (Taylor Swift)
The Last Time (feat. Gary Lightbody) – 4:59 (Taylor Swift, Gary Lightbody, Jacknife Lee)
Holy Ground – 3:22 (Taylor Swift)
Sad Beautiful Tragic – 4:44 (Taylor Swift)
The Lucky One – 4:00 (Taylor Swift)
Everything Has Changed (feat. Ed Sheeran) – 4:05 (Taylor Swift, Ed Sheeran)
Starlight – 3:40 (Taylor Swift)
Begin Again – 3:57 (Taylor Swift)
Deluxe Edition
The Moment I Knew – 4:46 (Taylor Swift)
Come Back… Be Here – 3:43 (Taylor Swift, Dan Wilson)
Girl at Home – 3:40 (Taylor Swift)
Treacherous (Original Demo) – 4:00 (Taylor Swift, Dan Wilson)
Red (Original Demo) – 3:47 (Taylor Swift)
State of Grace (Acoustic Version) – 5:23 (Taylor Swift)